Secret Recipe Club time again. Man it comes so fast! Months are just flying by. Oh, the truths of getting older.
This month I was assigned to Christina's blog, Mis-Cakes Oven Adventures. So many tasty desserts to choose to make! With recipes like PB Banana Brownies, No Bake Nutella Cookies, and Brown Butter Monkey Bread, she made it really hard for me to narrow it down to the perfect recipe. But when I saw this, I was done. Over. Finished. No more searching. I've found my calling. I've died and gone to heaven.
A strawberry shortcake simplified without all the cooking, and yet so amplified by the use of donuts. You'll have these desserts whipped up in a jiffy, and people will think you're all fancy schmancy when really all you had to do was slice some strawberries and have your mixer whip up some whipped cream.
Done and done!
Glazed Donut Strawberry Shortcake
from Mis-Cakes Oven Adventures
4 fresh glazed donuts

1 cup sliced strawberries

1 tablespoon sugar

1/2 cup heavy whipping cream

2 tablespoons powdered sugar

1 teaspoon vanilla
Place strawberries in a bowl. Top with sugar and mix. Let sit for a bit.
Add heavy whipping cream to electric mixer bowl
and whisk on high until soft peaks form. Turn mixer to slow, adding powdered sugar and vanilla. Return to high speed and beat until stiff peaks form.
Slice each donut and set top slices aside. On the bottom of each donut, place 1/4 of the strawberries and top with 1/4 of the whipped cream. Top with the top of the donut.
Printable Recipe
Forget slaving over a hot stove all day. These shortcakes are the perfect summer dessert. Quick, easy, no cooking required, no heat required, and just as delicious as the real thing.
No cooking? Now you've got more time for summer fun.
You're welcome.
Check out my past Secret Recipe Club posts.
Linking up here.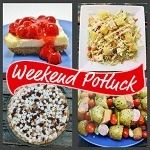 Peace, and bacon grease!
Glazed Donut Strawberry Shortcake
Glazed Donut Strawberry Shortcake